New research from Caribou Data provides a unique perspective into the digital lives of micro-entrepreneurs in Kenya, quantifying how they use digital platforms to enable their business.
This work, in collaboration with the Partnership for Finance in a Digital Africa (FiDA) and supported by the Mastercard Foundation, complements previous field work that interviewed business owners in Kenya to better understand their platform practices.
We found that while 27% of MSEs use dedicated marketplace platforms such as Jumia or Upwork, 92% of MSEs who use digital tools rely on personal consumer apps such as Facebook and WhatsApp to carry out key business functions, a practice typically referred to as "social commerce." These apps enjoy deep penetration and helpful features that make them an easy (and free) choice. This appropriation of general purpose mobile technology for business use is by no means new, but its occurrence is likely increasing as more emerging market micro-entrepreneurs become digitally active.
Looking specifically at the four most popular social apps, we can see that WhatsApp and Facebook are general-purpose tools and used across different business functions, while media-heavy YouTube and Instagram serve more niche use cases.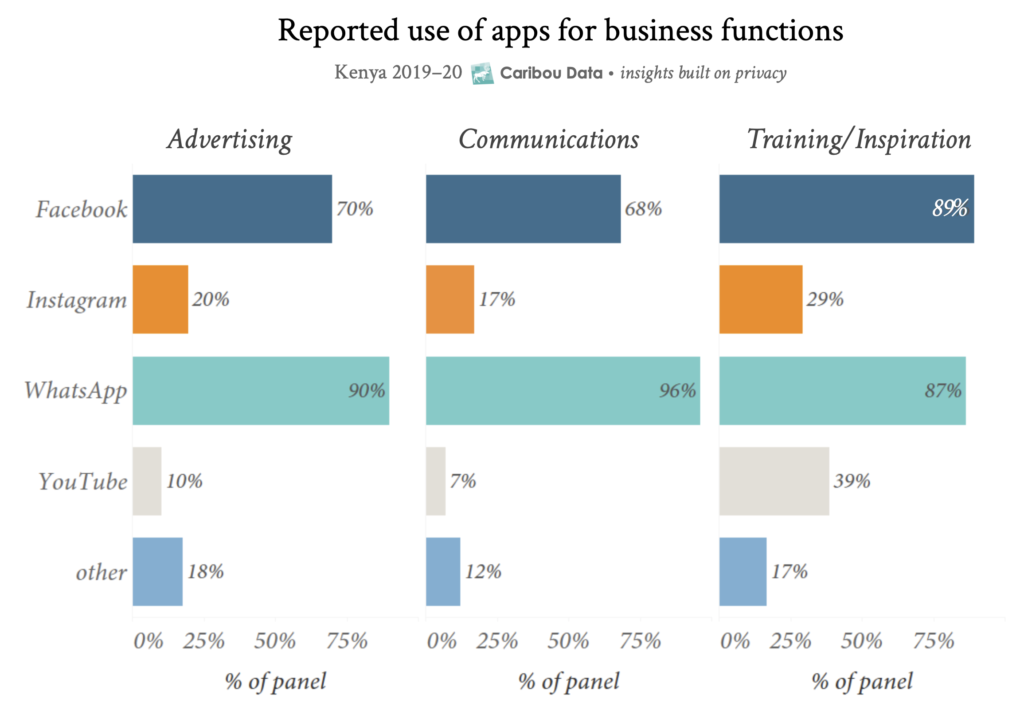 The corresponding app usage data shows the nature of how these platforms are actually used: WhatsApp, which is used by almost everyone, is for quick messaging (average session duration of about 14 seconds) all day long (average of 70 sessions per day). On the other hand, YouTube is only used a few times per day, but for an average of almost 3 minutes per session.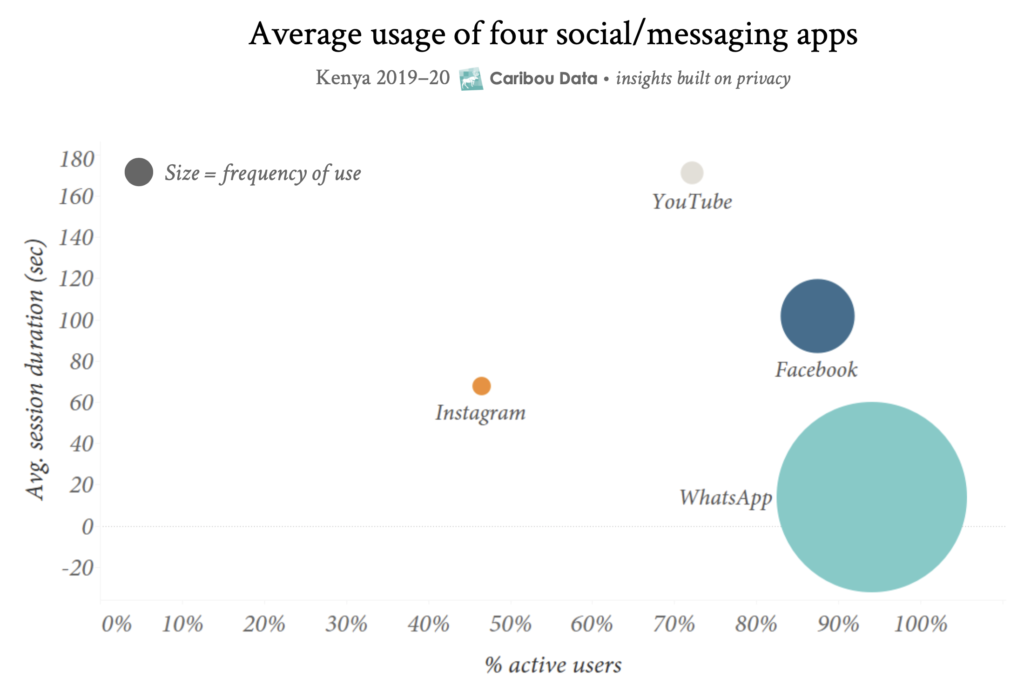 In general, larger and more formal (i.e., licensed) businesses were more likely to employ digital platforms, especially dedicated commercial platforms such as Jumia or Upwork. We assume this is primarily due to requirements, such as having a bank account, that suppliers need to have in order to join these platforms. Interestingly, even those MSEs who used dedicated commercial platforms also reported using social apps for their business, so these two approaches should be considered complementary and not direct substitutes.
And finally, we found that platform use corresponded to business outcomes: Amongst all MSEs that did use digital platforms, those who reported the highest intensity of platform use were twice as likely to report positive business health compared to low-intensity users.
The full report can be downloaded here. 

Methods:
This study combines two data sources: survey responses from panelists when they enrolled in the study, and then three months of passive digital activity data shared by those panelists from their Android smartphone. Panelists are paid a monthly stipend.
Caribou Data transparently recruits and compensates individuals for participating in its panels, using cutting-edge techniques such as differential privacy and on-device anonymization to ensure that participants are effectively anonymous and cannot be re-identified. As a result, Caribou Data can offer data and insights previously unavailable to the development community.