FiDA Partnership is publishing a mini series on various insights derived from an analysis of the third edition of the Evidence Gap Map (EGM). This is the fourth blog.
Previous blogs:
---
Last year we shared the impact story so far on person-to-person payments and transfers (P2P). The latest update of the EGM has folded in three additional P2P studies. These studies are valuable additions to the evolving impact story of person-to-person payments and transfers because they shed new light on how P2P can impact users' savings behaviors, recovery from financial shocks, income, and overall well-being.

What are the insights so far?
Within the EGM, P2P studies account for 26 percent (21) of all digital finance products and share insights from nine countries. The majority of studies focus on Kenya or East Africa generally. The mobile money channel is used in 100% of the products tested.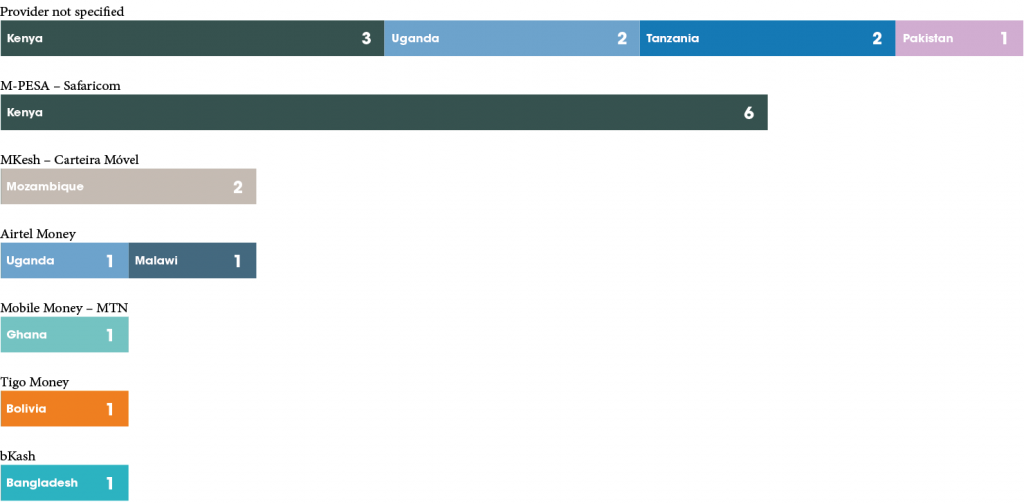 These 21 studies comprise 87 outcome tests. The diagram below shows the outcomes tested and the number of studies that had a positive, negative, or null effect. Of the 21 products examined, 57 percent (12) reported exclusively positive results, 0% reported exclusively negative results, 5 percent (1) reported exclusively null results, and 38 percent (8) reported mixed results.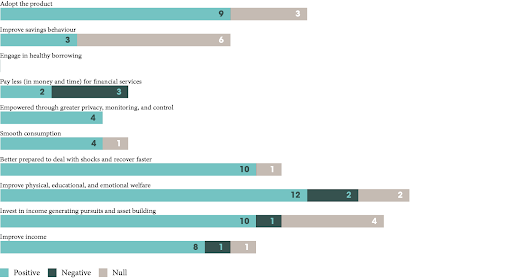 Our previous P2P impact insights
In our previous review of P2P impact studies we summarized the following overarching insights:
Three Kenyan studies showed that P2P users, particularly women, value the privacy of the product, allowing for more control over how their money is used.
P2P transfers appear to be more cost effective than previous money transfer methods, although those with limited digital literacy and/or numeracy may have different experiences.
Numerous tests have highlighted how users share risk and smooth consumption through quick access to remittances.
A number of studies observed that mobile money users had better welfare and economic outcomes than non-users, but the mechanisms of how and why were not addressed fully.
More recent studies have followed the money flow from sender to receiver and back again to confirm previous tests. However, money comes from somewhere and some researchers are concerned about the pressure on those sending.
The new P2P studies contribute to previous insights relating to: time and cost savings, risk sharing, and welfare and income outcomes. Additionally, the studies highlight new insights on P2P impact on saving outcomes, and all three of the new studies shared a similar trait: they investigated the effect of providing P2P mobile money services in areas where access was limited.

Spotlight on new P2P studies
Saving time and money with P2P
Previously, two studies provided insights on the time and cost saving theory of digital P2P; for instance, a 2008 study highlighted that M-Pesa was more cost effective than sending money on a bus or through the post office. However, a 2014 study suggested that digital transfers may cost more due to fraud, agent liquidity, and errors. This year a new study adds further insights on efficiency gains.
An IFC study with Airtel Uganda found that the rollout of Airtel agents benefited people in areas far from a bank branch. Those who receive or send remittances were 13 percentage points less likely to pay transportation costs. This is particularly notable because the median transportation cost paid corresponds to about 10 percent of daily household expenditures.
The evidence thus far points to time and money saving benefits. While instances of loss using digital transfers have been highlighted, this may be remedied over time with more widespread use of and access to the service.

P2P and savings — are users' savings growing or simply moving?
The evidence, thus far, that digital P2P transfers positively affect savings outcomes is not promising. Digital wallets offer safe storage of cash but without the benefit of interest payments. Furthermore, as people often use more than one savings device, researchers need to be diligent to understand if the intervention has increased savings or simply facilitated a movement of money from one device to another.

Consistent positive evidence on the benefits of P2P in risk sharing
One frequently discussed idea is that digital P2P presents a quick and convenient channel to receive money and thus share risk in times of economic stress. Eight out of nine studies that examined this outcome provided positive supporting evidence, and two new studies support the previous analysis on risk sharing.
The mKesh experiment in Mozambique found that when a household is hit by a negative shock— in this case a flood — the impact of mKesh availability on consumption was both positive and significant. While consumption fell for flood-affected households in control areas, consumption increased by an average of 44.2 percent for households in treatment areas. Treated households also showed an increased probability of receiving remittances by 44.1 percentage points and the value of those remittances was 412.1 percent higher relative to the control households.
Similarly, the IFC study with Airtel Uganda found that the rollout of Airtel agents did not have an impact on the use of some coping strategies, but it did decrease the likelihood of households changing their diet to deal with shocks (10.6 percentage points less likely).
Social networks can act as informal insurance networks, reducing the effects of shocks through periodic transfers, and digital transfers can facilitate risk sharing by expanding the geographic reach of these networks. The evidence thus far suggests that digital transfers enable users to manage negative shocks and make informal insurance networks more effective.

Evidence leaning towards the use of P2P remittances to invest in immediate household needs rather than business activities
Previously, we highlighted insights on welfare and income enhancing effects from five studies in terms of how P2P might enhance physical security, food security, asset investment, and income changes. However, at the time we noted that these insights, while informative, focused on association rather than causation and did not isolate the mechanism of change. In the updated EGM, three studies contribute additional insights.
The mKesh experiment in Mozambique found that the availability of mKesh did not affect business outcomes, suggesting that increased remittances received were not used for business investment. However, the study did find that, following the introduction of mKesh, there was a significant 5 to 8 percent decrease in vulnerability to episodes of hunger and a positive impact on the subjective well-being of households.
The Malawi Airtel Money study observed that after the introduction of Airtel money there was a diversion away from primary business towards agricultural work. A positive, but insignificant, increase in investments in agricultural inputs was observed. The study also found evidence of significant increases in food, holiday, and total expenditures.
The IFC RCT with Airtel Uganda found that the rollout of Airtel agents in rural areas had no effect on agricultural investment or outcomes. However, the study did find that agent rollout increased households' food security and reduced the likelihood of having to skip meals even though the study detected no overall effect on poverty levels.
In general the evidence on welfare is positive and consistent with findings related to resilience and risk sharing. Households appear to use remittances to invest in immediate household needs rather than on business activities. This may be due to the amount received and the context in which it was received. No impact on overall economic situation was noted. So far, this suggests that P2P helps to bridge cash shortfalls rather than to make significant investments that lead to general improvements in economic welfare.

Bringing insights together
None of the new studies challenge the previously noted insights, but they have added new insights and supportive evidence. From the additional studies we found:
Additional insights to support the idea that, with greater access to agents, P2P saves users time and money.
Limited evidence supporting the link between using P2P and improved savings behavior or value of savings.
Supportive evidence that P2P facilities risk sharing and improves a household's ability to cope with various shocks in the short term.
Positive insights on the welfare-enhancing effects of P2P products particularly for meeting immediate household needs.
Limited evidence to support the idea that P2P impacts the households' longer-term economic welfare.
Relative to digital savings and credit, P2P is the most fully formed, evidenced-based pathway to client impact. The new insights we've summarized here are more numerous and often consolidating, and consequently enable more confident conversations on the impact of P2P. But knowledge gaps persist, particularly in terms of the markets studied. Because all of these studies focused on East Africa, where P2P services are widespread, we cannot assume the same effects for other markets.

---
The studies in the EGM represent our best knowledge of digital finance impact insights. New studies are continuously emerging and thus the EGM will continue to evolve. If you have questions on the EGM, are interested in discussing research priorities, or know of relevant digital finance impact studies that meet the inclusion criteria, please contact ideas@financedigitalafrica.org.